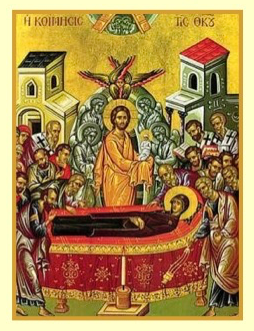 Part 2
Dn. Mark and Elizabeth Barna live in Charleston, South Carolina where Mark serves as an ordained Deacon at Holy Ascension Orthodox Church (OCA), Mt. Pleasant, SC. Elizabeth is a business woman with many years working in the hospitality industry, and is a certified food safety instructor and operates Atlantic Food Safety LLC. 
In their thirty-five years together they have rarely been alone, raising two sons and taking care of anyone else who came along, especially all four of their parents until Mark's mother's death in 2010. 
"A Christian Ending" was born out of a long held belief that chemical embalming is not only unnatural but a violence that Christians should not tolerate and a pagan ritual of a cult of body preservation. They have used the techniques described in the book many times for friends, family, and strangers, accepting no payment for their services. In 2011 they were asked to prepare their beloved Archbishop DMITRI of the Diocese of the South (OCA) for burial in Dallas, TX. 
More information about Mark and Elizabeth is available ...